The National Institute of Physics (NIP) honored Professor Dr. Jose A. Magpantay during a fellowship program held on his retirement day last January 11, 2017 at the NIP, UP Diliman, Quezon City. Highlighted in a presentation from the NIP Theoretical Physics Group were Dr. Magpantay's scientific works, awards received, international collaborations, and critical contributions to NIP, the University, and the general science community.
Testimonials and fondest memories of Sir Joey were shared by friends, family members, colleagues and former research students. In his response, Dr. Magpantay was grateful to the faculty, students and staff as the years he spent at NIP was a joyful "ride". He especially acknowledged the professors who have helped developed what he now considers a vibrant research culture at NIP. Seeing NIP at this state, Dr. Magpantay said "It is time for me to let go." At that point, there was wailing in the audience.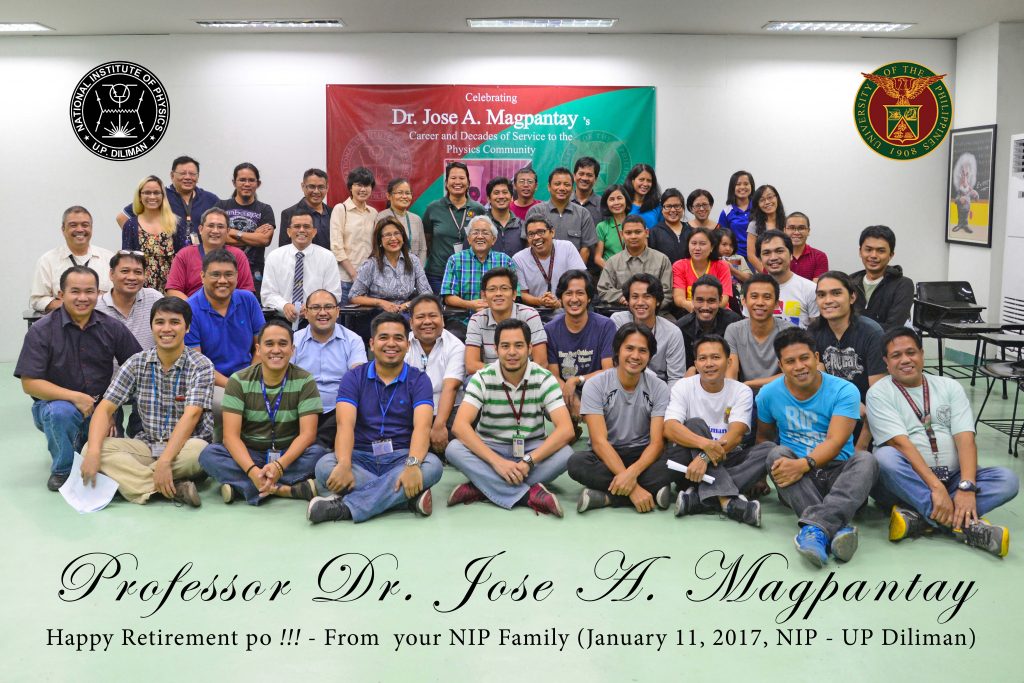 Dr. Magpantay challenged everyone to continue working hard to be on top of their respective specialization fields, giving NIP and UP more international recognitions. For his retirement, Sir Joey said he will fix some things first, then take road trips, and after those he plans to become an amateur physicist again. For his parting shot, Dr. Magpantay said he will enjoy his retirement and would like to thank everyone for that. Finally, he said, "Thank you for your GSIS contributions," and admonished everyone saying "Keep on paying!"
A copy of the souvenir program is now accessible online for viewing and/or download.
NIP honors Prof. Dr. Jose A. Magpantay