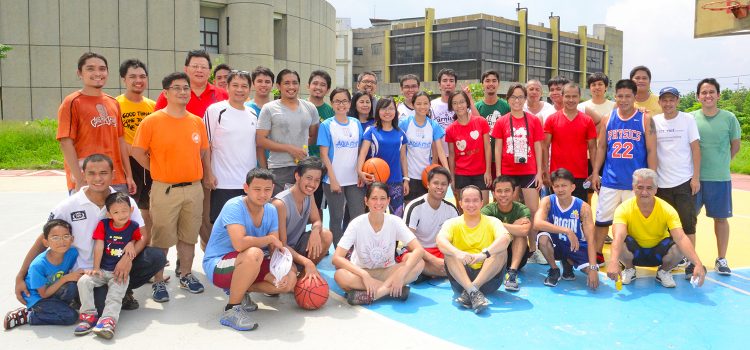 The National Institute of Physics (NIP) successfully held Sportsfest2016 last June 11, 2016 at various locations within the University of the Philippines (UP) Diliman campus. Outdoor sports events were held at the National Science Complex, College of Science (CS) basketball court and Ampitheater. Indoor games were held at the NIP veranda and water-based activities were held at the College of Human Kinetics (CHK) swimming pool located at the University Arcade.
The goals of Sportsfest2016 are to promote the physical and mental well-being of NIP employees comprised of faculty, researchers and support staff members; and, to strengthen the camaraderie among its employees. The theme of Sportsfest2016 is "Intensity & Unity Across Spectrum". The members of the 3 spectral teams are enumerated below.
YELLOW-ORANGE Team
Abella, Arellano, Banzon, Bareza, Batac, Caballar, Cabello, Dailisan, De Los Reyes, De Mesa, De Vera, Flores, Ilano-Sombillo, Jualayba, Lamsen, Lim, Lumantas, Maulion, Moralejo, Rodriguez, Saloma, Salvador, Tapang, Tare
RED GREEN Team
Acuna, Agapito, Aguilar, Bendicio, Bernardo, Dajac, Engay, Enriquez, Estacio, Gaca, Galapon, Garcia, Magpantay, Miranda, Ocampo, Olaya, Roque M., Sarmago, Sombillo, Taduran, Taller, Vance
BLUE WHITE Team
Abalayan, Almoro, Bantang, Bardaloza, Blancas, Caneso, Dasallas, Delos Reyes A., Escoto, Esguerra, Fajardo, Fudolig, Galapon, Gayagoy, Hermosa, Lozada-Tan, Nayga, Paraan, Roque K., Singidas, Somintac, Soriano, Ventura, Villagonzalo
The Champion for the NIP Sportsfest2016 was the YELLOW-ORANGE team followed by the Red-Green team (Second Placer) and then the Blue-White team (Third Placer). After the games, the intense spectral teams reunited and reaffirmed the mantra One NIP through a warm fellowship, NIP style.
Sportsfest2016 was a rousing success based on the moderately high number of participants, cooperative weather, good food and drinks, zero injury, and fun games.
NIP gratefully acknowledges the support from the UP Diliman Office of the Chancellor, CS Dean's Office and the CHK Dean's Office. The event was spearheaded by the NIP Sports and Wellness Committee headed by Miguel Fudolig.
A pdf of a narrative photography of the NIP Sportsfest2016 may be accessed through this LINK.
NIP holds Sportsfest 2016