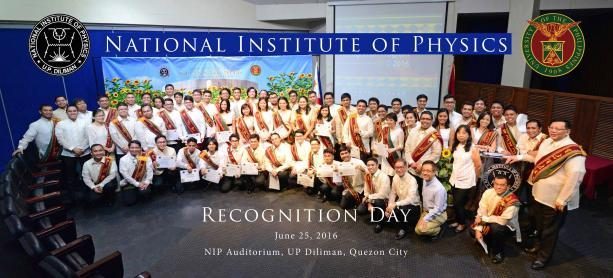 The National Institute of Physics held Recognition Day 2016 last June 25, 2016 at the NIP Auditorium in UP Diliman, Quezon City.
The event was a celebration of the students' successful completion of their courses before their degrees are formally conferred during the University Commencement Exercises.
NIP Class 2016 is comprised of 37 undergraduate and 35 graduate student members. Also recognized during the event were the students' parents and research theses advisers. The guest of honor was Mr. Jeffrey Keng of the Angelo King Foundation, Inc. which supported undergraduate scholars at NIP.
As a first time, sunflowers were planted all around the NIP building complex and, like clockwork, the sunflowers bloomed in time for the Recognition Day. A Photo Album and narrative photography of the Recognition Day program that also includes some sunflower images taken around the NIP, may be accessed through this link.
NIP holds Recognition Day 2016