The National Institute of Physics (NIP) held its "Gabi ng Parangal 2017" last December 18, 2017 at the NIP Veranda, UP Diliman, Quezon City. The event featured the presentation of outputs of the recent academic workshops and the giving of special recognition awards to deserving instructors and staff members.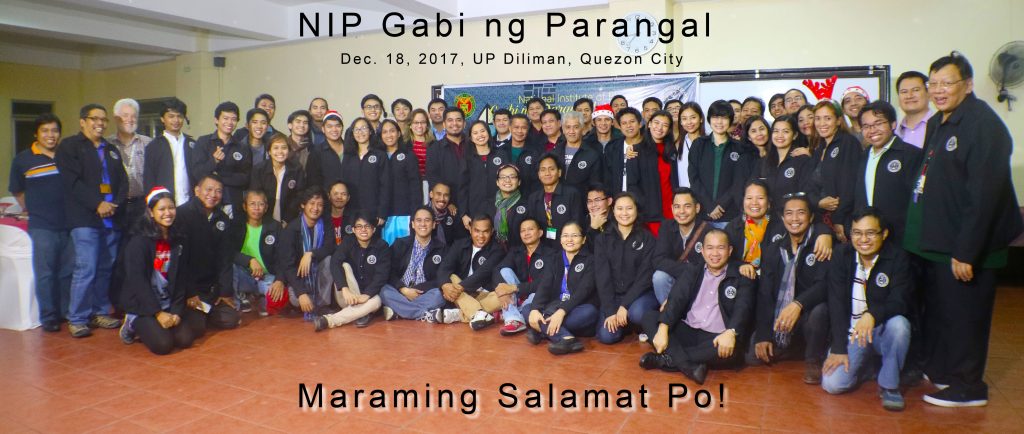 During the afternoon program, Dr. May Lim (Deputy Director for Academic Affairs) presented the planned course revisions as a response to the K-12 program. This was followed by a presentation by Dr. Denny Lane Sombillo, on behalf of the General Physics Courses (GPC) Committee, where he discussed the output of the GPC Workshop on the revisions of the service courses.
During the evening program, Director Roland Sarmago in his opening remarks thanked the whole NIP Community for the successful year with special thanks to those junior faculty and staff members who will be recognized for their exemplary services and performances.
As a first time this year, some alumni were invited to join the celebration. Dr. Sarmago expressed his appreciation to the alumni and hoped that the alumni organization will have more active engagements with NIP.
After the dinner time, the audience was serenaded with perfomances by Micholo Medrana and Carl Naces. As a fun game, a balloon relay was also held involving the majority of the guests and participants.
As the highlight of the event, giving of special awards based on an online approval-voting were facilitated by Dr. Francis Paraan for the instructors and then by Dr. Percival Almoro for the staff members. The following is the list of this year's awardees:
Instructor Awards:
Gawad Direktor Para sa Natatanging Lekturer – Mario Onglao
Gawad Direktor Para sa Natatanging Guro sa Laboratoryo – Rommil Emperado
Gawad Direktor Para sa Natatanging Guro sa Recitation Class – Patrick Elegado / Bimbo Galit
Gawad Direktor Para sa Natatanging Bagong Guro – Niña Zambale
Gawad Direktor Para sa Natatanging Pinuno – Diane Caneso
Staff Awards:
Gawad Direktor Para sa Natatanging Staff (Admin) – Christopher Moralejo
Gawad Direktor Para sa Natatanging Staff (Research) – Ponciano Gamboa, Jr.
Gawad Direktor Para sa Natatanging Staff (Teaching Labs) – Joel Arellano
In the spirit of the Season and to show appreciation for the work done throughout the year, Director Sarmago handed gift baskets to each of the Staff members. Dr. Sarmago extended his appreciation to the whole NIP Community for the unity and the support.
Finally, a special prize for the Best Costume based on the theme "Anything December" was given to Mr. Bimbo Galit who wore an outfit depicting the national hero carrying a book entitled "Noli Me Tangere with Modern Physics". The program ended with the traditional group picture taking.
NIP acknowledges the Socials Committee headed by Angelo Ramoso, for the successful conduct of the event; Nina Zambale and Jenny Lou Sagisi for the photos.
NIP holds Gabi ng Parangal 2017