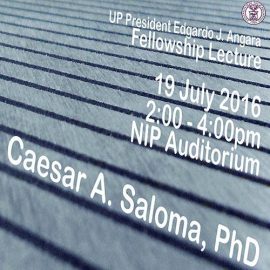 Everybody is invited to participate in the next offering of the UP President Edgardo J. Angara (PEJA) Public Lecture Series to be held at the NIP Auditorium on July 19, 2016 (Tuesday, 2pm – 4pm).
Prof. Caesar Saloma will give a presentation entitled, "Human Resource Generation and Funding Absorption Capabilities of the Philippine Scientific Enterprise System".
The Program and Aim of Lecture are available in this link.
Invitation: Public Lecture at NIP